Programming in CasaLa Theater
"Wrap me a piece and half of theater, a loaf of magic, a bunch of concerts and a piece of good and fresh flamenco".
CasaLa Theater It is a multidisciplinary space that combines different audiences and different shows. Although there is a natural predisposition to promote local artists, the room also houses works by national and international.
Cinema, flamenco, magic, music, theater, and dance happen in days increasingly familiar among the Sevillian audience. A mix that articulates by this way:
music Thursdays: film series in the afternoon and live music at night
Pleasure fridays: Theater Night
Children's week ends, magical Saturdays and Sundays: Saturday morning and Sunday is for children, magic, theater, storytelling, puppetry ... The night, for adults: cabaret, theater, flamenco, concerts ...
Intimately Flamenco, a daily space for flamenco.
Other activities in CasaLa Theater
Apart from the "official" programming, CasaLa Theater It is the setting for many other activities. Talks, screenings of documentaries, short films produced locally, book presentations, educational activities, exhibitions, film or castings, are just some of the events offered by the room. The only requirement is that they are endowed with quality and originality, Casala Theater does the rest.
Success is assured, since, the charm of the theater itself, the leisure and restaurants offering adds the Triana market, ideal complement and exceptional setting to organize any meeting.
"Really fresh, quality products"
Among products of the land and the sea, surrounded by the scent of spices and the sweet smell of fruit, born in May 2012 CasaLa Theater in the Market of Triana.
Being the world's smallest theater, with only 28 seats and 6 square meters of scenery, make this area a very unique place that certainly gains even greater interest so privileged enclave in which it is located, as is the food market, in the heart of Triana.
Casala Theater dimensions are ideal to enjoy the pleasures of the theater in an intimate format. Its limited capacity, a cozy space and the stage so close, make the room unique meeting place for public and artists. It gives us an excellent opportunity to approach the world of theater, music, dance, flamenco or magic; living sensations never before experienced in a theater.
Apart from the programming, CasaLa Theater is the setting for many other activities. Conferences, screenings, book presentations, exhibitions, film or castings, are just some of the events that can be performed in CasaLa.
Success, whatever the format, is assured because the charm of daily life market itself, the leisure and restoration adds it offers ideal complement and exceptional setting for any type of event.
Welcome to CasaLa Theater!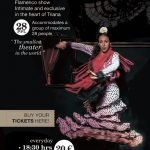 Open Seats

17 Jul 2020 - 17 Jul 2020 18:30

¡Un espectáculo FLAMENCO en Sevilla TODOS LOS DÍAS en CasaLa Teatro! 18:30 y 20:00 hrs. Esta cita inesperada para los amantes del flamenco nace en...
This unexpected event for lovers of flamenco born in the theater Triana Market, including vegetables, fish and meat, surrounded by the scent of spices and the sweet smell of fruta.Hoy day, as there is a choreographic flamenco large spaces, we are able to see a great show in an intimate place, located in the heart of one of the most popular districts of Seville: Triana.
This cultural project is an intimate approach to flamenco in a unique place that allows live with every sense this art, thanks to an emotional and physical closeness that envelops the viewer. The third season of "Intimately Flamenco" is born from the complicity and freshness of its components, a show where each artist brings his touch and personality, creating a unique blend of feeling flamenco.