Esta cita inesperada para los amantes del flamenco nace en el teatro del Mercado de Triana, entre verduras, pescado y carne, rodeada del perfume de las especias y el olor dulzón de la fruta.Hoy en día, al igual que existe el flamenco coreográfico para grandes espacios, tenemos la posibilidad de ver un espectáculo de gran calidad en un lugar íntimo, situado en el corazón de uno de los barrios más populares de Sevilla: Triana.Esta propuesta cultural es un acercamiento íntimo al flamenco, en un lugar único que permite vivir con todos los sentidos este arte, gracias a una cercanía emocional y física que envuelve al espectador. La tercera temporada de "Íntimamente Flamenco" nace de la complicidad y frescura de sus componentes, un espectáculo donde cada artista aporta su toque y personalidad, creando una mezcla única de sentir el flamenco.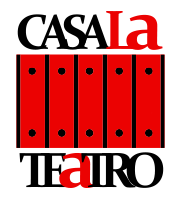 CasaLa Theater It is probably the smallest theater in the world, with only 28 seats and 6 square meters of scenery, make this area a very unique place that certainly gains even greater interest in the enclave as privileged in which it is located , as is the food market in the heart of the district of Triana…
Theater in HomeWish we designed a Christmas program in Seville for the smallest for the month of December with a lot of magic, storytelling, puppetry and very excited. Every weekend can enjoy the magic and humor with different wizards that make us ...
read more
Among products of the land and the sea, surrounded by the scent of spices and the sweet smell of fruit, born in May 2012
CasaLa Theater
at
Market of Triana
.Las dimensiones de CasaLa Teatro son ideales para disfrutar de los placeres del teatro en un formato íntimo. Su aforo reducido, un espacio acogedor y el escenario tan cercano, hacen de la sala un lugar de encuentro único para público y artistas.
It gives us an excellent opportunity to approach the world of theater, music, dance, flamenco or magic; living sensations never before experienced in a theater.
Success, whatever the format, is assured because the charm of daily life market itself,
the leisure and restoration adds it offers ideal complement and exceptional setting for any type of event
.
In CasaLa Theater We are open to proposals within our scope of our activities and programming. Apart from the programming, HomeWish Theater is the setting for many other activities. Conferences, screenings, book presentations, exhibitions, film or castings, are just some of the events that can be performed in HomeWish. If you want to send us your proposal you just have to fill in the form 😉
Theatre
Comedy
Cabaret
Drama
Flamenco
Dance
Music
Familiar
storyteller
Concerts
Magic
And much more…..
What do you think Casala Theater?
You can follow the opinions of
CasaLa Teatro a través de TripAdvisor
and your comments on this site. Thanks to your opinions we have achieved
Tripadvisor Certificate of Excellence
, los últimos 4 años, en 2014, 2015, 2016 y 2017.Igualmente, puedes seguirnos y dar tu opinión en nuestros perfiles de las Redes Sociales, como en
CasaLa Teatro en Facebook,
where do you treat us with the same affection with which you receive.